Post files online and earn money
The internet is a big place where you can find all sorts of information but also downloadable files in all categories. And for uploading our own files, you can earn some serious cash! Everyone could make a nice profit just from uploading files. You won't have to invest anything to start, you will just need a computer with internet connection and you are good to go.
What types of files to upload to start making money
So exactly what files should and can you upload to start out. Well, it could be (legal) applications or freeware, pictures, videos, ebooks and what not. However it should come to no supprise that many files on these types of file sharing websites are copyrighted material, which is of course not permitted to share. Another obvious form of content that is uploaded to these websites is porn, but not all file sharing websites allow adult content to be posted. In the TOS (Terms of Service) you can see if adult content is allowed.
How do you earn money
Most file sharing webites give you X amount of money for 1000 downloads of a file you shared. And since many of these webites offer some kind of premium service, where people can get higher download speeds and no waiting time to start a download. You can also earn money from people buying the premium service when trying to download your file.
Best Filesharing Websites to make money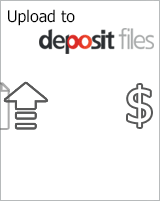 Deposit Files is one of the oldest file sharing websites. And is known to be legit and will pay you for your hard work uploading files. The maximum upload size per file is 2GB, but you can always split your files with winrar for example to upload large files in parts. The control panel of the website has a pretty nice layout and is easy to use. You will earn $0,03 per download.
Short Summary:
Max file size: 2GB
Min payout: $10,-
Earnings: $30,- per 1000 downloads
Payout options: Paypal, Z-purse, Webmoney, Check, Bankwire
So next on our list is Turbobit, which is a personal favorite of mine. It has a really nice looking website and control panel. It is super easy to use and you will have options like implementing your own filesharing service to your website. I think that alone is just great! And from what I could tell, it does not have a file size upload limit, so you could just upload 10GB files if you wish to. Earnings are pretty decent as well, $0,02 per file.
Short Summary:
Max file size: No limit
Min payout: $10,-
Earnings: $20,- per 1000 downloads
Payout options: Paypal, Payza and Webmoney
Filefactory has been around for years since 2005 even! And its a well known and trusted file uploading service. Like Turbobit, it has a really nice layout and is easy to use for everyone.
Short Summary:
Max file size: 5GB
Min Payout: $10,-
Earnings:  Approx $25,- per 1000
Payout options: Payza, Amazon Gift Card
If you are really looking to make money from uploading files, then WDupload is probably the best. The website and download page itself have a really nice clean looking layout. Your (free) account will give you 1TB of space to upload files, which is of course insane! They offer many payment options to buy premium accounts, and even anonymous payments like Bitcoin. So if you are looking to store some insane amounts of files and make lots of money from it, then WDupload is the way to go!